"Keep it simple!"Was the leading mission statement while engineering the SF2.
The vision became mission and finally reality. This is evident at first sight: The SF2 is configured very cleanly and simply. Compared to other rebreathers, the SF2 is compact and well-arranged. The reason: All important components are integrated into the carbon fibre tube. Therefore, the SF2 needs significantly less volume compared to other rebreathers. Tests, as well as various certifications, assure a constant level of security while diving. The SF2 is especially suitable for ambitious technical dives. It is available as either a backmount or sidemount rebreather.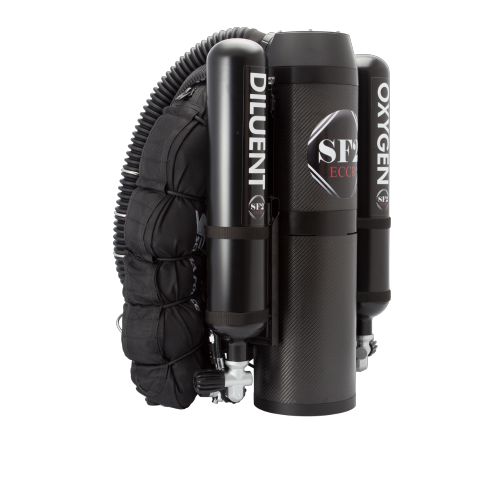 ---
Streamlined Design
Wie aus einem Guss, ist der SF2 sauber und schlicht geformt. Darüber hinaus verleiht das Kohlefaserrohr dem SF2 ein neues, stromlinienförmiges und hochwertiges Design
Die Montage und Demontage des SF2 ist sehr einfach, da das gesamte Rohr entfernt werden kann und alle Innenteile leicht zugänglich sind.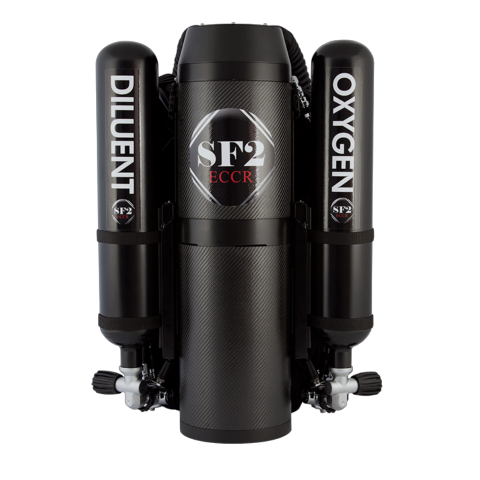 ---
Compact Installation
The electronic chamber is located within the head. The adapters of the breathing hoses are mounted at a slight angle on the head. This leads to a perfect positioning of the unit, as well as being, incredibly comfortable.
The scrubber canister is located between the head and midsection. Concerning the midsection, two different requirements of modern rebreathers are combined. First, you can find the bypass (ADV) which provides gas in case of low volume in the system. Second, the adapters of the "Manual Add" are located here.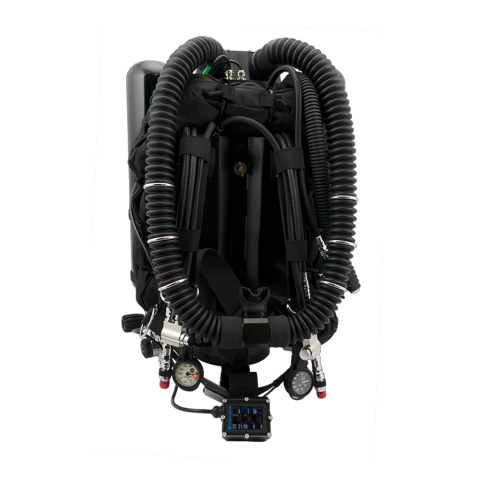 ---
Electronic Chamber
The electronic chamber is the heart of the SF2. The O2 sensors as well as the Oxygen solenoid and the battery compartment are located here. The O2 sensors are located in a separate chamber to protect them from moisture. The electronic plate is located below the battery compartment. High-quality SMB angle plugs connect the plate with the sensors.
---
Unique Positioning of Counter Lung
Compared to other rebreathers, the SF2 differs in the unique positioning of the counter lung. Often, the counter lung is positioned on the chest. In contrast, the SF2's counter lung is located in the lower tube. This leads to an ideal diver's position in the water and low resistance.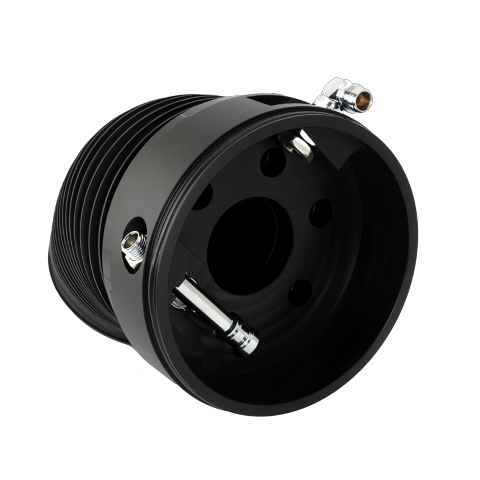 ---
Manual Adds & Off Board Gas Connector
The "Manual Adds" enable you to add both oxygen and diluent manually. The "Off Board Gas Connector"  allows you to add external gas. Hence, the fundamental idea of redundancy while diving is completely secured. Construction-conditioned the entire periphery works while applying "Off Board Gas".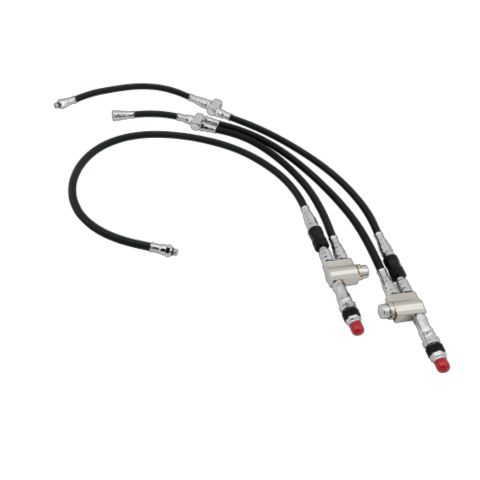 ---
Sidemount Conversion Kit
From one to two!
The Sidemount Conversion Kit is designed for this.
Quickly and easily allowing the diver to convert from backmount to sidemount. This option is unique to the SF2 rebreather and not available with other units.
Sidemount Conversion Kit consists of:
Lower carbon tube with sidemount frame and foot
Complete Mid Part (incl. Bellow, ADV etc.)
Complete breathing loop with sidemount mouthpiece and necklace
Complete SF2 Sidemount Off Board Gas Connection
Stage bungee strap
Head plate with bracket
2 x Bolt Snap